Intersnack
A responsible
world citizen
In our everyday thoughts and actions, acting responsibly is key. This translates into quality, safety, sustainability and naturalness of our products. We also always keep in mind the effects of our business practices on people, the environment and society. We are happy to contribute to nature preservation and we invest in better (labour) conditions for local communities in faraway countries.
Would you like to find out more about our social responsibility?
read more
We aim for 100% sustainable packaging
The Intersnack Group supports the EU circular economy approach and is committed to continuously working on the prevention, reduction and recyclability of our packaging materials:

We aim to reduce 10% of our packaging material by 2022 (on a 2014 baseline) by continuously exploring further optimization of and more efficient material use in our existing packaging portfolio.
By 2025 we strive for 100% of our plastic consumer packaging to be recyclable.

In order to achieve our ambition we depend on and will contribute where possible to:
The development and availability of recyclable foils by the packaging industry
A further development & improvement of waste collection, sorting and recycling infrastructure across Europe
Consistent (implementation of) legislation and government incentives across Europe
Correct disposal of packaging by consumers.
Therefore we actively engage in stakeholder alliances, public-private partnerships and cross-industry initiatives to support the development of innovative solutions. In the meantime we will continue to assure and safeguard the quality of our products and the functionality of our packaging material to prevent unnecessary food waste.

saturated fats

-40
%

-30
%

-39
%

-24
%

-28
%
Reduction of saturated fatty acids by 75%
Simply stated, our snack and nuts become more nutritious as we replace 'bad' saturated fatty acids with 'good' unsaturated fatty acids.

Thanks to the fact that we use special sunflower oil, HOSO (High Oleic Sunflower Oil), we have been able to gradually reduce saturated fatty acids in our chips and specialty items by over 75%. The amount of unsaturated fatty acids therefore only continues to increase and will become even greater, thanks to future improvements.
Cashew cultivation in West Africa
A third of all cashews come from Africa. Most African cashew growers live in poverty, due to outdated farming methods and processes. As a partner, Intersnack supports the Bill & Melinda Gates Foundation and the GIZ (German Association for International Cooperation) in their striving to improve the livelihood of 150,000 cashew growers in the West African countries of Ghana, Ivory Coast, Burkina Faso, Benin and Mozambique. One important goal of the project is to enable the farmers to increase their annual salary by at least 90 Euros. In addition, the project should create 5,500 new jobs related to growing and processing cashews.
www.giz.de
Great taste with 85% less artificial additives
We have reduced the addition of artificial flavour enhancers, such as monosodium glutamate to our (brand) products by as much as 85%. A healthy improvement, which does not compromise the delicious flavour of our snacks and nuts.
New and existing products taste better naturally
The demand from consumers for products with natural flavours is only increasing. That is why we only use natural flavours in every new (brand) product we develop and put on the market. For many existing products, we have changed the composition with respect to natural flavours. Today, more than half of our brand products have natural flavours.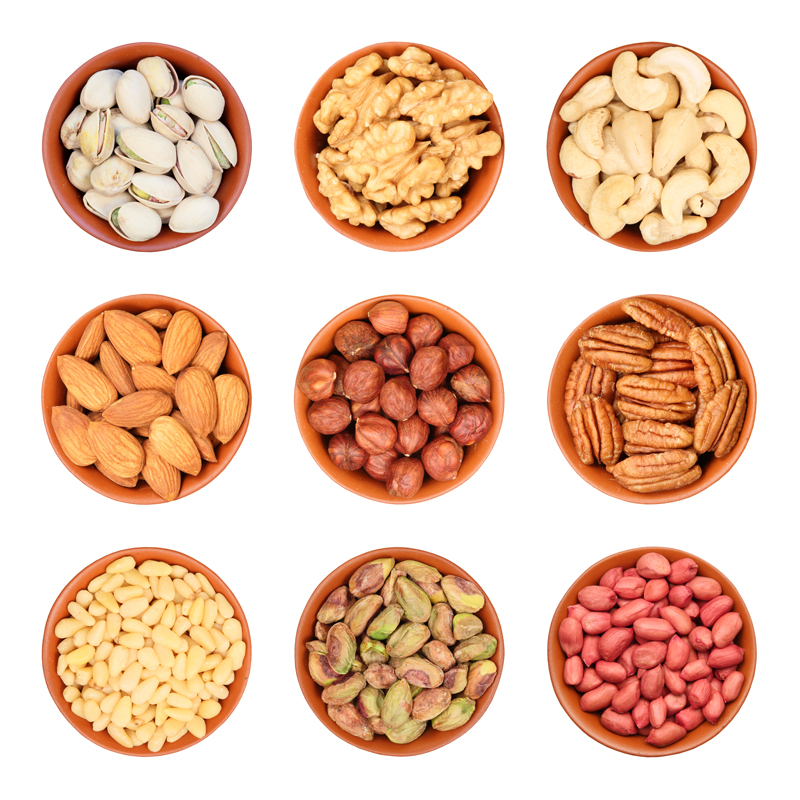 Healthy and nutritious products
We do everything to continually improve the quality and nutritional value of our products. Improvements include:
Reducing food contaminants
Limiting saturated fatty acids
VReducing avoidable allergens
Less salt in our products
Using less fats
Products for sensible diets
Use of natural flavours

Support for Bolivian farmers

We support local farmers in Bolivia in their cultivation of their traditional peanut varieties, in order to improve the living conditions of thousands of farmers and their families in the long-run. In addition, we collaborate with GIZ to create a stable standard of living for the next three years, so that the livelihood of many more families will improve. The objective of the project is the knowledge transfer of new technologies and skills to the farmers, and protection of local peanut varieties that are being threatened with extinction.




Independent guarantee for product safety
Along with Global Food Safety Initiative (GFSI), we are working on further improvement of the food safety of our (brand) products. Our safety standards are continually compared to the best in the world in the food industry. We are regularly inspected by AIB, a renowned international audit company and by experts in the food safety sector. All of our locations have passed the GFSI and AIB tests with flying colour. That is why they are certified by the BRC (British Retail Consortium) and IFS (International Food Standard).
Communication to consumers
The product-related nutritious value is stated clearly on the labels of our products. We use clear guidelines for this. The new guidelines for product-labelling (Food Information for Customers Regulation) apply to all products.

Responsible marketing is more than a must. Intersnack is committed to the guidelines of the European Snacks Association (ESA). ESA endorses the EU campaign to promote healthy snacks and a more balanced diet for kids. That means that we do not target children under the age of 12 in our TV commercials, printed or internet ads.
Consideration for our employees
It is important to us that employees are happy at Intersnack and that they enjoy being part of our team. Accountability for and to our employees is a fundamental aspect of our corporate mission, vision and culture. We pay special attention to:
Personal development
Working in a healthy and safe environment
Transparent communication
working at Intersnack